March 9th  marks our first General Meeting of 2016. We've been saving a topic near and dear to our hearts, not only on our CCKT Board; not only among our Members; but also, with our King citizenry!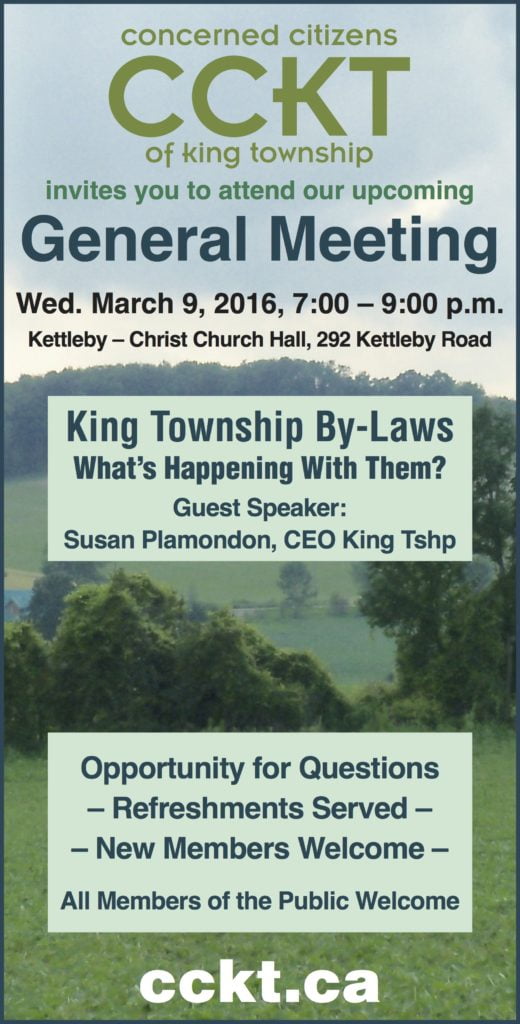 Bylaws the their enforcement are, not surprisingly, a fairly constant source of tension, especially for those of us who live in our Villages and Hamlets.  And also not surprisingly, bylaw enforcement is becoming more criticized as we intensify and grow.
Trees, firearms, parking, noise … we are confronted with the limitations of our property rights whenever we wish to expand their boundaries … and curse when we perceived they are being trampled on by our neighbours.
That said, our Township Staff and Council have not been sitting on their hands:   Several Bylaws have been reviewed and approved by Council since the 2010 elections, and others are in process.
We are honoured to have King's Chief Operating Officer (C.O.O.) Susan Plamondon, as Guest Speaker.
Ms. Plamondon will update us on her and her Staff's efforts to modernize several of King's bylaws.
Following, our Chair, Greg Locke, will moderate an open Question and Answer session with her.
YOU can ask our C.O.O. question regarding what concerns you about our bylaws and their enforcement in King.
Seating is limited at Christ Church, Kettleby, so we advise getting there a bit early – 6:45 tops.
Event Details:

Wednesday, March 9th, 2016
7:00 – 9:00 pm
Christ Church
292 Kettleby Road.